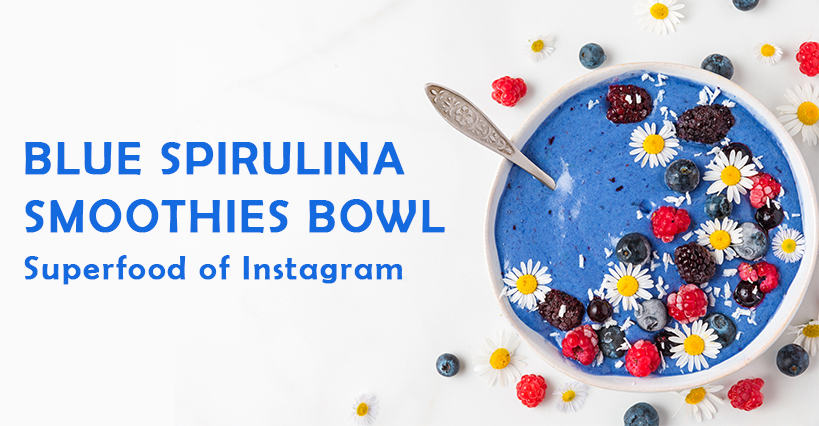 Blue Spirulina Smoothie Bowl丨Superfood of Instagram
Nowadays, the smoothie is very hot. You can find all kinds of smoothies on social media. Why smoothie is so popular? There are many reasons: easy to make, colorful, delicious, and nutritious. To make a smoothie, you don't have to master a lot of tips. It is so easy that almost every adult can do it. Besides, you can make different recipes according to your own taste, and decorate it according to your own aesthetic. To make a smoothie is more like creating artwork than just making a plain meal. You can get a lot of fun.
I made many smoothies before, such as a banana smoothie, strawberry smoothie, pink pitaya smoothie. Now I am fond of making blue spirulina smoothie. I was attracted by blue spirulina smoothie the first time I saw it. The color is so lovely. Someone makes an ocean smoothie with it, really amazing. I never thought smoothie can be like this:

Or like this:

If you also want to make a healthy and lovely blue smoothie, blue spirulina is always the best choice. In addition, you can use blue spirulina and red pigment to make a purple smoothie, and a yellow pigment to make a green smoothie.
Blue spirulina is high in protein and has anti-inflammatory and anti-oxidation functions. It's the only natural blue coloring food that FDA recognized. Try blue spirulina and enjoy your blue smoothie.
Blue Smoothie Bowl Recipe
Blue Spirulina is rich in vitamins, minerals, antioxidants, and carotenoids. Add 1 tsp to your daily smoothies and you will be nourishing your inner and outer health!
Ingredients:
4frozen bananas
1 cup of frozen mango
1/2 cup plant milk
2-3 tsp Blue Spirulina (phycocyanin)
Method:
1. Add all ingredients in a blender then blend until combined.
2. Pour smoothie mixture into a bowl and decorate your smoothie bowl with fruit, granola, coconut, nuts, and toppings and enjoy!