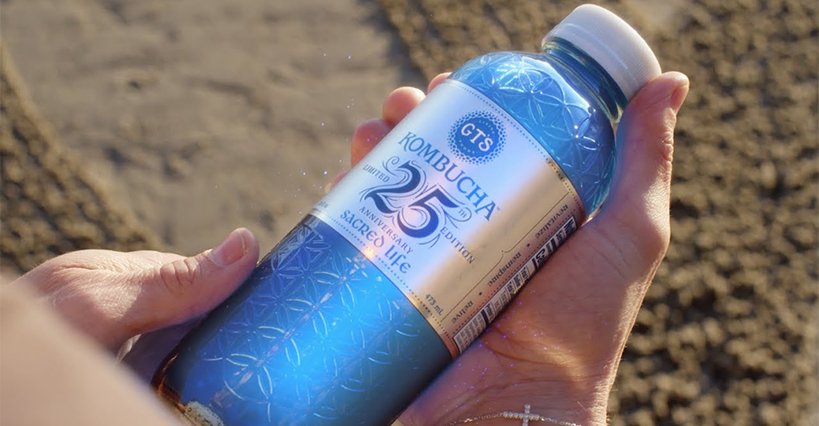 Natural Blue Spirulina Used in The Kombucha
Kombucha, a fermented beverage, has recently attracted the attention of a large number of people in different countries around the world, such as the United States, such as the United States, Europe and Australia. In 2009, Kombucha even became the most liberal product in the United States. Kombucha always has a long list of health benefits. The reason for the popularity of Kombucha is that it is healthy and organic. This tea, which is a probiotic drink containing enzymes, amino acids, antioxidants and polyphenols, protects the body's immune and digestive systems. 
However, recent health movements and the growing popularity of organic products have not gone unnoticed, as most customers who buy Kombucha follow a healthy diet. The other reason that Kombucha has quickly become an influential beverage in the world's beverage economy is its significant sales and a variety of new ingredients, such as the combination of Kombucha with natural blue spirulina.

One of the unique combinations of Kombucha is GT's Kombucha drink. This drink which has produced by GT's Living Foods is a limited-edition Kombucha called Sacred Life with an unusual bright blue colour. GT's Kombucha is rich in freshly squeezed ginger, young coconut water and antioxidant-rich natural blue spirulina where the attractive blue comes from.
The healthful beverage is organic, Non-GMO Project Verified, traditionally handcrafted and raw, which makes it full of microbes to support and revitalize the body's natural systems. And the attractive blue color in this drink originating from the natural blue spirulina is a symbol of life and the oceans of the planet. It can also be said that the core of this GT's Kombucha drink is natural blue spirulina because of its nutritional properties.
Natural blue spirulina, also known as Phycocyanin, is a blue pigment found in algae that has antioxidant properties and can support healthy inflammatory response. Many studies have shown that Phycocyanin in this substance can significantly reduce oxidative stress and inhibit free radicals, which is allowed to be used in the regulations of the European Union and the United States. Experimental studies on Phycocyanin, as a natural and healthy raw material, have effects such as antioxidants, anti-inflammatory, protective properties of the liver and nerves. It can also be useful in treating Alzheimer's and Parkinson's. Moreover, Phycocyanin plays a critical role in the prevention and treatment of some cancer diseases.

Besides its rich nutritive value, due to its blue color, this protein can be used in the food industry as a natural pigment instead of existing synthetic dyes to achieve a grand visual feast. One of the selling points of GT's Kombucha drink is it's fantastic blue not only full of mystery but also making you as eye-catching as it is.
Today, the use of natural dyes in food and medicine is significant. Among the many nutrient compounds derived from microalgae, pigments have become increasingly commercially crucial due to their high application and ease of extraction. Therefore, considering the vastness of this market and the vital role of natural blue spirulina among other products, choosing a 100% natural and healthy product may be one of the most critical concerns of buyers.

In this regard, BINMEI, as an experienced natural blue spirulina supplier, offers two healthy solutions: blue spirulina powder and blue spirulina liquid extract. Being operating in this field for more than seven years, BINMEI makes its natural blue spirulina in line with the consumers' pursuit of 100% natural and healthy and allowed in the organic certification of the United States and European Union. If you need accurate and specialized guidance in buying natural blue spirulina, do not miss the opportunity of expert advice from BINMEI experts.