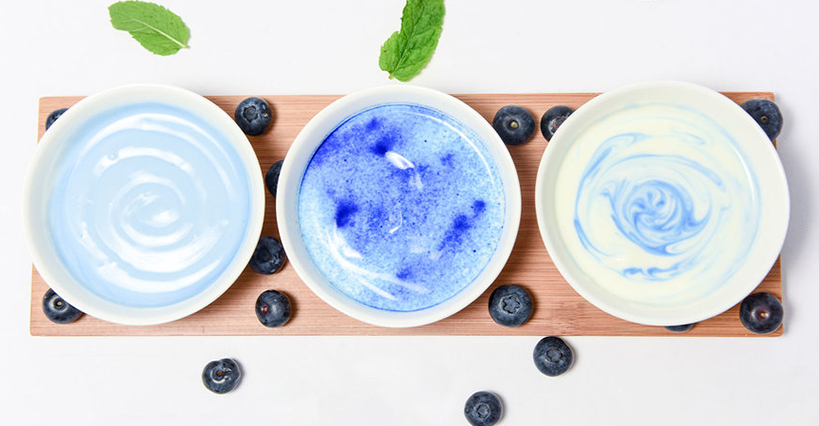 3 Reasons About Why Blue Spirulina Powder Becomes the Latest Health Food
Spirulina is a kind of algae that mostly are blue and green, living in salt and freshwater worldwide for hundreds of years. Should we add this natural blue pigment to our diet? Supposedly, spirulina maybe is not the tastiest and most appetizing food.
Why is this blue spirulina powder now widespread in the family dining table and becoming a new trend for healthy food? If you have got shocked by some brilliant blue food before, then you will know what does it make of after reading this article. Here at something you need to know about this fantastic color food helper.

Real natural pigment
When shoppers are asked what they want from food and beverage products, they say they should be clean and simple. That's why blue spirulina is a great choice. Although the brilliant blue appearance seems synthetic, the form after extraction is entirely blue. 

Manufacturers need to use physical processes such as Freeze-thaw filtering and concentrate on extracting the phycocyanin powder to obtain this blue spirulina powder. This extracted from actually is the form customers usually buy in the market. In other words, it is only a purest blue item that nothing extra is put into. This differentiates it from so-called 'natural' color additives in the market that are often extracted using chemical solvents. 
Blue spirulina isn't an additive – they're foods themselves based on their nature. The form of the blue spirulina powder in every producing process can be eaten and quality for label declarations. In Europe, blue spirulina powder can be used as a color food raw material without limitation, and in the USA, it is approved by the FDA to use in the food industry. With enormous guarantee and strict food standards set up by the government facilities and enterprises, blue spirulina powder has achieved great success in the health food and supplement industry.
Clean label conformity 
A diet of "clean eating" refers to a lifestyle that avoids processed foods and is heavy in raw and unrefined produce. The total value of the global clean label ingredients market in 2019 reached 9.8 billion dollars, and it is expected to rise to 16.3 billion yuan in 2026, with a compound annual growth rate (CAGR) of almost near 7.4%.
Besides, On Instagram, the tag "clean eating" has been used more than 49 million times and often occupies the top trend in google search. At the 2018 American Food Technology Association annual meeting, "clean label" was officially implemented as a food enterprise development criterion. It is not hard for us to clearly notice that the clean label market is booming. 

Blue spirulina powder can be classified into a clean label product. Here are the reasons. The blue spirulina powder is natural, organic, free of artificial additives and preservatives, and is familiar to consumers in detail. The ingredient is an eatable extraction form, which is phycocyanin powder, and it is simple and not a confusing chemical component for customers. And the manufacturing process is not complicated, which is shorter than others on average.
As clean labels are becoming more and more important to consumers, it is an inevitable trend that natural colors will replace artificial ones. 
High nutritive value
Spirulina is the excellent nutritious food for humanity in the 21st century. It is comprehensively nourished that can improve the physical fitness and immunity system.
Among all the animals and plants on the earth, spirulina is the only one with the highest protein content reaching 60%-70% and contains the most complete and balanced nutrients and physiologically active substances. Therefore, it can be regarded as the most omnipotent popular food with essential nutritive value. 
If modern people desire to obtain a high-value health food, but without any nutrient additives, the spirulina is the latest one who meets the requirement that all the nutrient element center on it enriching in many vitamins like B, C, E, each with particular vital function for body digestion and absorption.

Conclusion
Blue spirulina powder is full of health benefits and enjoys a significant business development outlook. As a pioneer in the spirulina industry, BINMEI is a professional blue spirulina manufacturer since 2013. With more than nine independent intellectual property rights and innovation, BINMEI is developing rapidly with its youthful vitality. If you want further information about spirulina, please feel free to contact us and check our website now.  
Previous Post
Binmei has been assessed and determined to comply with FSSC 22000 certification