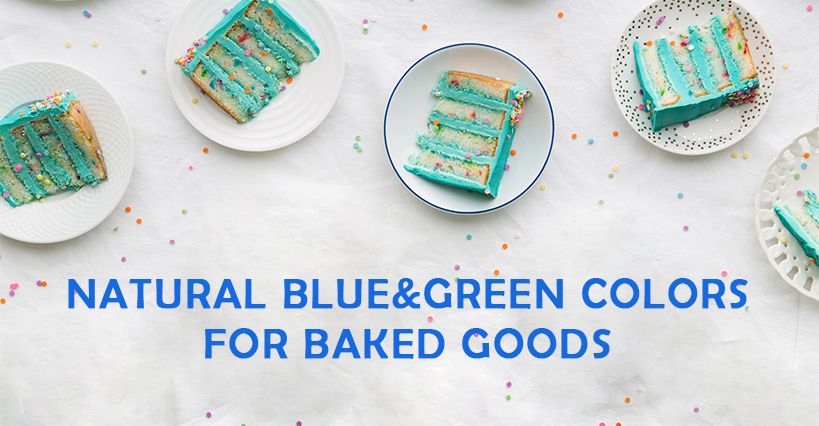 Natural Blue&Green Colors for Baked Goods
Looking good = tasting good
According to the latest survey report in the United States, 43% of American consumers between the ages of 26-35 say they will take pictures of their food and share it on social networks at least once a week.
And blue is one of the most popular colors in the world. One-third of the world's brand colors are blue, such as Facebook, Twitter, LinkedIn, Skype, Dell, PayPal, blue is also the sea and sky. No one can refuse this wonderful color, it is very suitable for attracting attention on social media.
But in food, except for blueberries, blue is not closely related to food. However, more and more food and beverage companies are looking forward to the emergence of blue food. Phycocyanin makes all this possible.
In fact, in the desserts launched in the past five years, 30% of the products claimed to use natural ingredients (Mintel 2019).
Visual Appeal Drives Initial Purchases
Consumers are more willing to buy products with unique colors to facilitate sharing on social platforms. There are more than 3 million posts on Instagram with the hashtag #cakesofinstragram, which show the baked goods of consumers, pastry chefs, and home bakers. Natural blue can not only satisfy consumers' pursuit of naturalness and health but also improve overall flavor perception and potentially increase purchase intention.
Although blue is favored by consumers and businesses, there are not many natural blues to choose from. Fortunately, we found phycocyanin from spirulina, which not only presents a beautiful natural blue, At the same time, it is allowed to be used as a colorant in European and American regulations.
However, there are still some challenges in using phycocyanin for coloring, especially the temperature problem during baking.

Natural food colors to delight consumers
Blue solution: Blue spirulina(phycocyanin) can add a wonderful sky blue color to the cake. The only thing you need to pay attention to is to avoid the high temperature during baking. You can also mix with other natural colors to make natural purple and green etc. Blue spirulina is extracted from spirulina and it is allowed to be used in European and American laws (Approved in North America (Color: Spirulina) and EU (Spirulina Concentrate)). It is usually powder, but we have also developed and produced spirulina liquid extractbecause it avoids the characteristics of powder dust and not easy to preserve during use.
Our products have passed the FDA registration, halal, kosher, HACCP and other system certifications, 95% of our products are exported to Europe and the United States.
| | |
| --- | --- |
| Product Name | Blue Spirulina (phycocyanin) |
| Nutritional Content | Rich in protein, vitamins, minerals, carotenoids, and antioxidants |
| Characteristic | Blue powder, with red fluorescence |
| Ingredients | Trehalose, sodium citrate |
| Solubility | Soluble in water, insoluble in alcohol and lipid |
| Manufacturer | Zhejiang Binmei Biotechnology., Ltd. |
Green solution: Spirulina is a blue-green alga that is one of the most nutrient-packed superfoods on earth. It is rich in high-quality plant protein and essential amino acids as well as a variety of vitamins, iron, and carotene. Our spirulina comes from the pure Inner Mongolia Plateau. Spirulina can be used as a green source in baking.
Product Name
Spirulina powder
Colour/Odour
Free-flowing green colored meal (non-cohesive).

Odour is characteristic of seaweed.

Bulk Density
400-600 g/l (400-600 kg/m3)
Particle Size D90%
<150 um
Form
Powder
Manufacturer
Zhejiang Binmei Biotechnology., Ltd.
Brighten your bakery innovation with a sample of our natural blue food colors today-select your hue here!