Certificate of Analysis
Heavy Metals
| | |
| --- | --- |
| Lead (Pb) | ≤0.9 (mg/kg) |
| Arsenic (As) | ≤0.5 (mg/kg) |
| Cadmium (Cd) | ≤0.2 (mg/kg) |
| Mercury (Hg) | ≤0.05 (mg/kg) |
Microbiological Tests
| | |
| --- | --- |
| Total Plate Count | ≤1000(CFU/g) |
| Yeast and Mold | ≤100(CFU/g) |
| Coliforms | ≤10(CFU/g) |
Detection of pathogenic bacteria
| | |
| --- | --- |
| Salmonella | Negative |
| Staphylococcus aureus | ≤100(CFU/g) |
| Vibrio parahaemolyticus | ≤3.0(MPN/g) |
Nutritional Facts
| | |
| --- | --- |
| Serving size: 100g |   |
| Amount per serving |   |
| Calories | 348 |
|   | % Daily value* |
| Total Fat 0g | 0% |
| Saturated Fat 0g | 0% |
| Trans Fat 0g |   |
| Cholesterol 0mg | 0% |
| Sodium 2312mg | 96% |
| Total Carbohydrate 41g | 14% |
| Dietary Fibre 0g | 0% |
| Total Sugar 35g |   |
| Included 35g Added Sugars | 70% |
| Protein 45g | 90% |
| Phycocyanin 35g |   |
| Other Protein 10g |   |
Moisturizes and protects skin moisture
Phycocyanin itself is a protein that helps to retain skin moisture and reduce dryness. Phycocyanin tablets from BINMEI are made with high quality and high content Spirulina extract, which enhances the barrier function (moisturizing power) of the skin and protects it from moisture.
Clinical trial content and results
Adult women (20-65 years old) were divided into a test food group containing phycocyanin and a placebo group (consuming a food group without phycocyanin) and asked to consume the food daily. We measured the amount of water loss from the skin, which is an indicator of skin barrier function (moisturizing power).
As a result, the test diet group containing phycocyanin significantly reduced the amount of moisture loss from the skin after 8 weeks. In this clinical study, 40 subjects in the test diet group and 38 subjects in the placebo group were analyzed.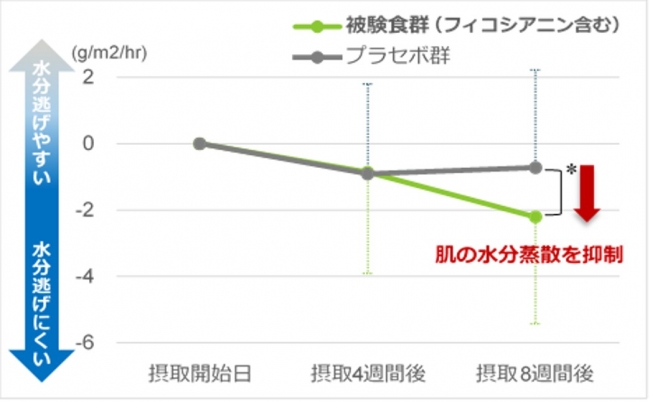 Anti-aging effects
Self-assessment tests conducted by independent laboratories on 60 women at the rate of five phycocyanin tablets per day demonstrated the effectiveness of consumption as an anti-aging treatment.
After 12 days.
70% of women noted adequate skin hydration.
After 24 days.
62% of women saw firmer, more radiant skin,
62% of women saw softer and more supple skin,
72% of women had better-hydrated skin.
Super antioxidant
It has an antioxidant and antiradical action that protects the phospholipids of the cellular membranes and the connective tissues. It also conserves Superoxide Dismutase (SOD), catalase, glutathione and peroxidase, these antioxidants produced by our body, whose amount of production and effectiveness decreases with age. Its antioxidant effects accumulate with potent antioxidants that are part of the diet (vitamins C and E). Studies show that phycocyanin has antioxidant activity:
70 times greater than SOD,
16 times greater than vitamin E,
20 times greater than vitamin C.

Mechanism of antioxidant action of phycocyanin
Cancer and cancer treatment.
Cancer is the uncontrolled growth of cells in the body, which is caused by the progressive accumulation of mutations that affect the control of cell growth, differentiation and survival. Cancer cell growth is regulated by the balance between cell proliferation and apoptosis, a normal physiological process used to eliminate unwanted cells and maintain homeostasis in healthy tissues in vivo. Therefore, induction of apoptosis is an ideal way to treat cancer (Tansuwanwong et al., 2006).
Phycocyanin induces apoptosis in existing and proliferating cancer cells and is a natural antioxidant that also helps to eliminate any cancer that promotes oxidative stress. Phycocyanin reduces the amount of cyclooxygenase 2 that is upregulated in cancer cells. It was determined that phycocyanin induces apoptosis in cancer cells by altering the Bcl-2/Bax ratio (Bcl-2 is an anti-apoptotic protein, Bax is a pro-apoptotic protein, and the Bcl-2/Bax ratio represents the degree of apoptosis) and the release of Cyt-c from the cytoplasmic lysate (Lu et. al., 2011).
Cancer Therapy by induction of apoptosis.
Growth inhibition of cancer cells
Alteration of the Bax/Bcl-2 ratio
Release of cytochrome-c from mitochondria into the cytoplasm
Activation of caspase cascade
Inducing DNA fragmentation
Thus inducing cell death through apoptosis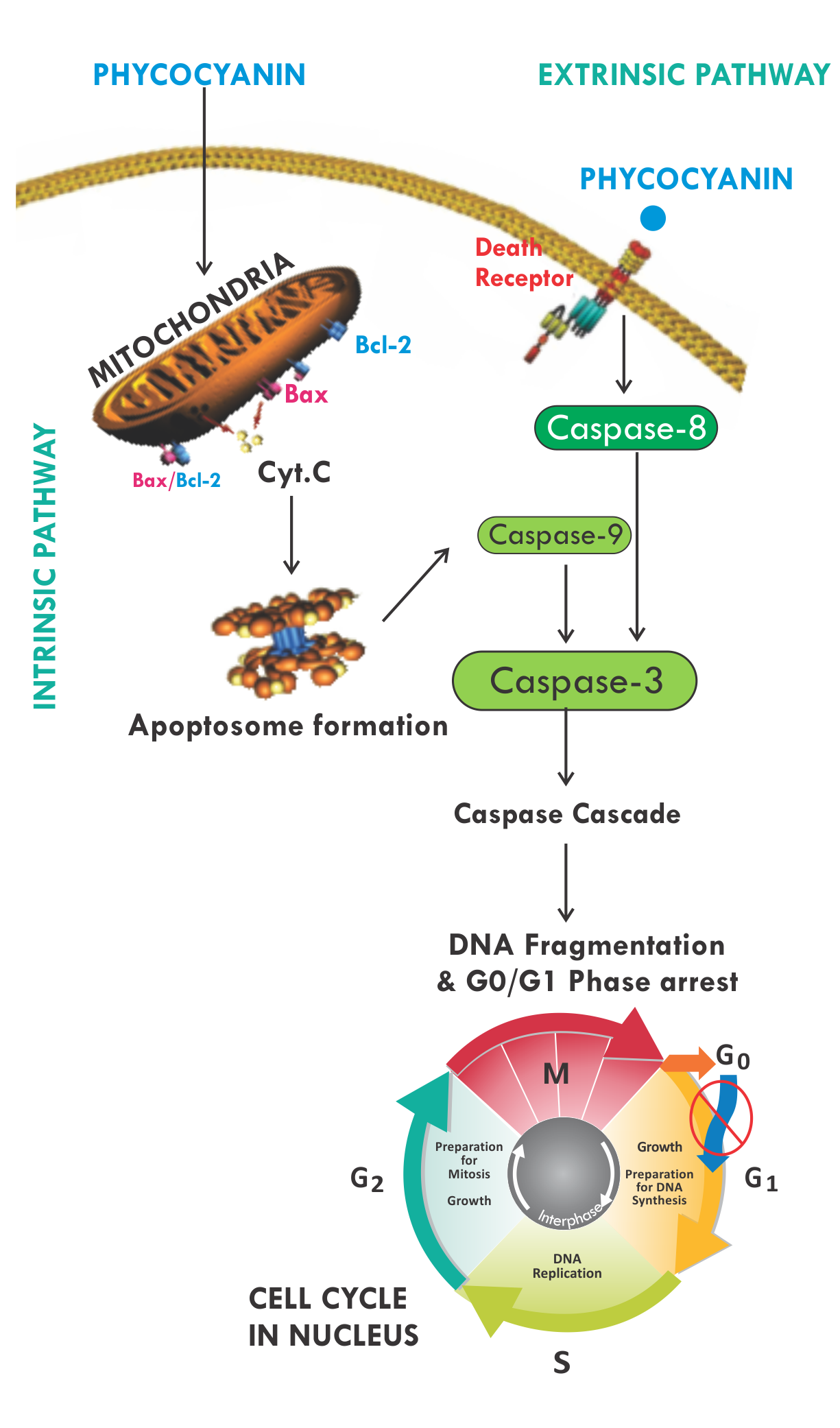 Boosts immunity
The use of phycocyanin in cancer treatment is justified by the fact that regular intake of phycocyanin has been shown to enhance the immune response. When used as an adjuvant to chemotherapy, it reduces the risk that chemotherapy may eventually cause new cancers by improving the cancer response to chemotherapy and boosting the immune system to fight the spread of cancer.

Phycocyanin affects the stem cells in the bone marrow that produce the white blood cells that make up the cellular immune system and the red blood cells that supply the body with oxygen.
Phycocyanin mimics the effects of erythropoietin (EPO), which is produced by healthy kidneys and regulates bone marrow stem cell production of red blood cells (Kozlenko and Henson, 1998).
Phycocyanin enhances the secretory IgA antibody response and suppresses the allergic IgE antibody response in mice immunized with antigen-embedded biodegradable particles (Nemoto-Kawamura et al., 2004).
Specific types of immune cells involved in cancer control, cytotoxic T lymphocytes and NK cells, acted more effectively with increased phycocyanin intake (Arias et al., 2011).
Q1: Can I get a sample?
A: Yes. Free sample available.
Q2: What's your MOQ?
A: 1kg.
Q3: Is there a discount?
A: Yes, for larger quantities, we always support with better price.
Q4: How to start orders or make payments?
A: Please send your request to our e-mail: sales@chinabinmei.com. Our sales will contact you ASAP.
Q5. How about packing?
A: Usually, we use aluminium foil bags as the inner packaging and cartons as the outer packaging.
Q6: What's your delivery time?
A: We will ship within 3 working days after payment (except Chinese holidays). For most countries and regions of the world, the goods usually arrive in about seven working days.
Q7: How to confirm Product Quality before placing orders?
A: You can get free samples for some products, you only need to pay the shipping cost or arrange a courier to us and take the samples.
Q8: How do you treat a quality complaint?
A: First of all, our QC department will do a strict examination of our export products by HPLC, UV, GC, TLC and so on in order to reduce the quality problem to near zero. If there is a quality problem caused by us, we will send you free goods for replacement or refund your loss.